Take
10%

Off Your First Order Of Ribbons
Use Coupon Code

RC10
Ribbon Canada is thrilled to announce an exhilarating expansion to our rainbow – a vibrant new Colors section, curated just for you. Our palette has blossomed, and we're inviting you to come explore the spectrum of possibilities!

Over 100 colors and custom prints available
Looking to
CUSTOMIZE

Your Ribbon?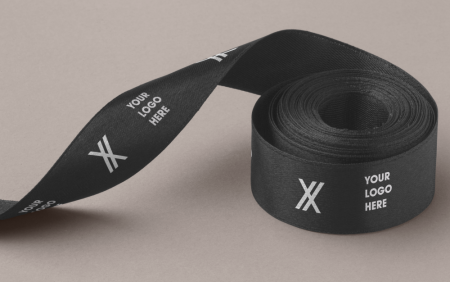 Leave a lasting impression and increase your customer loyalty by branding on ribbon. We understand the importance of brand packaging to enhance your image and effectively engage with your customers. We are here to help you build your brand and leave a unique and memorable impact.
Why brand on ribbon?
Cost-effective
Low minimums
Versatile
Elegant
Minimal storage
Hot Stamped Ribbons

From: $68.99 / roll
Full Color Digital Print
From: $134.99 / roll
Make a Statement With Every
Ribbon
Find Your Perfect Ribbon
Size
From Delicate to Dramatic: A Size for Every Need
At Ribbon Canada, we understand that the right ribbon size can transform your project. Whether you're adorning a gift, crafting, or adding a finishing touch to your décor, choosing the perfect ribbon width is key. We offer a comprehensive range from the dainty 1/8" for subtle accents to a bold 3" for a statement piece.
1. Small Wonders (1/8" – 1/2"): Perfect for scrapbooking, invitation embellishments, or adding a delicate touch to small gifts.
2. The Versatile Middle (5/8" – 1"): Ideal for medium-sized gift wrapping, hair bows, and mid-scale craft projects. These sizes offer flexibility while still making an impact.
3. Go Big or Go Home (1 1/4" – 3"): These wider widths are great for large gift bows, floral arrangements, and home décor. They're eye-catching and add a luxurious feel to any project.
Tips for Choosing the Right Size:
Consider the Scale: Match the ribbon width to the size of your project. Larger items often look best with wider ribbons.
Purpose Matters: Thinner ribbons are great for subtle additions, while wider ones make a bold statement.
Mix and Match: Don't be afraid to layer different sizes for a unique and dynamic look.
Still Unsure?
Our expert team is here to help! Contact us for personalized advice on selecting the perfect ribbon size for your specific needs.
Frequently Asked
Questions